ATM 72LC Hillside Mower
Slope Mower

by Harper
A safer solution to mowing slopes, the ATM 72LC keeps the operator and the engine upright on hills up to 34 degrees. The two halves of the 72 inch deck float independent for a quality cut in ditches and rough terrain. This superior technology balances greater comfort and control, decreasing rollover risk.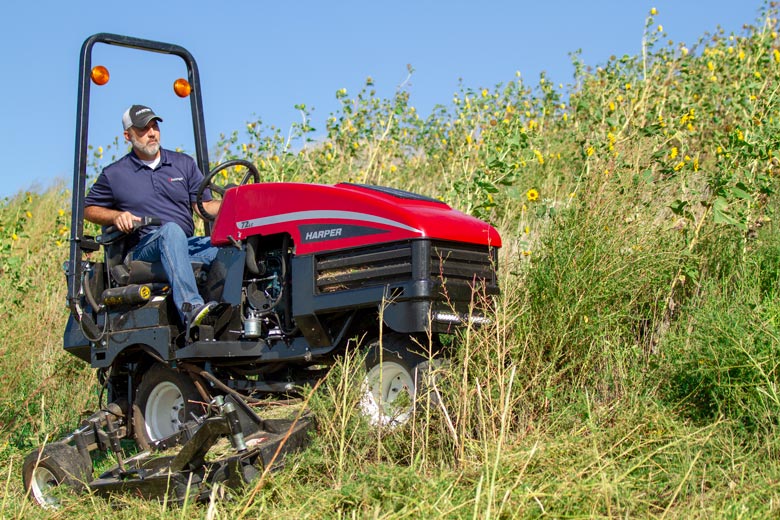 The ATM 72 can safely mow slopes of up to 34 degrees.

Automatic self-leveling system keeps the engine upright on slopes up to 34 degrees, improving safety and performance.

Durable deck adjusts in ½" increments for increased efficiency on steep slopes or uneven terrain.

A cut width of 6 feet means fewer passes and greater efficiency.

The 37"x45" canopy is designed to uniquely attach to the roll bar for desired head room. Made from 5/32" thick, modified ABS plastic and steel brackets. Available in red or white.

Ideal for landscaping, the straight blades with shear bolts offer a more finished cut.
| | ATM 72LC Hillside Mower |
| --- | --- |
| Engine | 24.8 HP @ 2300 RPM gross rating: Kubota V1505-E4B Liquid Cooled 4 Cylinder Diesel |
| Electrical System | 12 Volt, 40 Amp Electrical System |
| Blade Drive | Direct Hydraulic - No Belts or Gear Boxes |
| Ground Drive | Poclain Hydrostat - PM10 variable displacement axial piston pump; Poclain High Efficiency Axial Piston Wheel Motors with Integrated Parking Brake |
| Speed Control | Foot-Operated Speed Control - Self centering to Neutral |
| Ground Speed | 0-7 MPH |
| Weight | 2,480 lbs. |
| Deck Caster Tire | 11" x 4" x 5", foam filled |
| Drive Tire | 25" x 11-12" - 6 Ply |
| Stabilizer Tire | 16.5" x 6.5" x 8" Foam Filled |
| Gauges | High Engine Temp, Parking Brake, Low Hydraulic Oil, Glow Plug Leveling Lockout, Mower Blades Engaged, Low Voltage, Park Brake |
| Leveling | Automatic Hydraulic Self-Leveling to 34 degrees with Manual Override Mounted on arm rest |
| Steering | Steering wheel with power steering |
| Brakes | Hydrostat Integrated with dashboard on/off switch |
| Seat | Adjustable Suspension Seat with Arm Rests and Seat Belt |
| Fuel Capacity | 10 US gallons |
| Hydraulic Oil Capacity | Reservoir 11.5 gallon (US) with Hydraulic Oil Cooler |
| Cutting Width | 72" |
| Cutting Height | Adjustable from 3" to 7.5" |
| Overall dimensions | 107" L, 74.5" W, 90" H with ROPS |
| Rear Discharge | Two 36" Decks, Independently Free Flotation |
| Frame | Welded and formed steel frame |
| Safety | Certified ROPS with Hazard Lights, meets ANSI/OPEI B71.4 Standards |
ATM 72LC Hillside Mower Downloads
Slope Mowers Downloads
ATM 72LC Hillside Mower Archived Resources